Monday, November 9, 2020 at 2:30 pm - 4:00 pm
Professional and emerging dancers are welcome to attend the online zoom platform based Brain-Body Connection Professional Development Series hosted by Free Flow Dance Theatre free of charge. If you would like and can afford to make a donation to support the future of the company please do! We are pleased to host this series of workshops with the support of the Community Initiative Fund, City of Saskatoon and Sasktel.
Ensemble Thinking in Dance ImprovisationTechniques that entice collective thinking and spontaneous composition in dance improvisation are explored in the context of conference calls. The question is how can dancers connect in the zoom room with other dancers to spontaneously co-create meaningful group composition that reflects our current situation. Choreographic concepts such as frame, rhythm, originating idea and motif, shape, level, and tone will be explored through the lens of the Zoom room.
Register here https://www.canadahelps.org/en/charities/free-flow-dance-theatre-inc/events/brain-body-connection-2-kathleen-rea/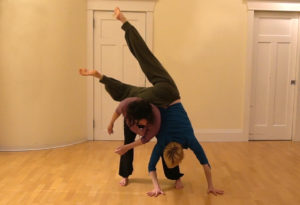 When
Nov 9, 2020
2:30 pm - 4:00 pm
Categories