Kick that holiday hum drum to the curb with a viewing of Holding Hands choregraphed by Newton Moraes and performed by Mitchell Larsen. Subscribe to our YouTube channel so you don't miss the show this Thursday the 30th at 7pm CST!
Thank you to our funders Canada Council for the Arts | Conseil des arts du Canada SaskCulture and SKArts! Thanks also to Free Flow Dance Centre, and Sightline Design.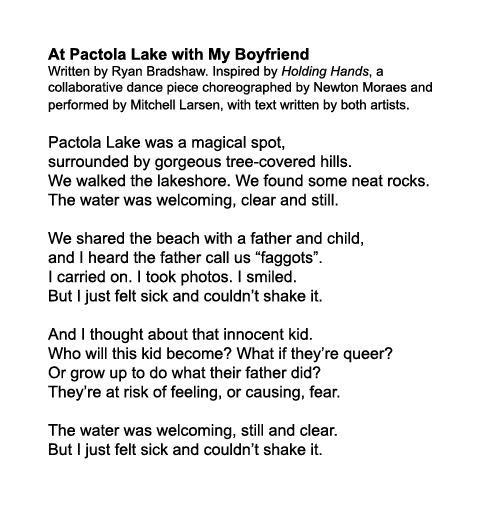 If you enjoy Free Flow and want to support us please consider donating to our Ho Ho Holiday Campaign through Canada Helps.
https://www.canadahelps.org/en/charities/free-flow-dan
ce-theatre-inc/campaign/2-ho-ho-holiday-campaign-
2021/
Mitchell Larsen
Mitchell is a dancer born and raised across Saskatchewan. With a diploma in Theatre Arts from Grant McEwan University Mitchell has worked and created art in Saskatchewan ever since, including works as a modern dancer with Free Flow Dance Theatre, touring the province with Saskatchewan Express and working as a program coordinator for Dance Saskatchewan Incorporated to bring dance programming to under-served populations and communities.
Newton Moraes
Newton was born in Porto Alegre, Brazil. At an early age, he started dancing Samba and then pursued studies of Physical Education at the Unisinos university in Porto Alegre. Later he studied Bale with Tony Seitz Petzold at the prestigious Bale Phoenix, Jazz with Annette Lubisco and Edison Garcia, Afro-Brazilian dance with Marcelo do Nascimento and Jose de Anchieta, and Street-dancing. in 1991 he decided to move to Toronto with the support of his partner, world-renowned anthropologist, Robert Shirley, who was a full-time professor at the University of Toronto. In Toronto, he studied Modern and Contemporary Dance at the Professional Programme at the School of Toronto Dance Theatre. Since his arrival in Canada, Moraes has choreographed more than fifty works, both for himself and other dancers.