We are awaiting International Dance Week viewing number 7! The Soul Bench was choreographed by Marie-Paule Jean-Gilles, and performed by her and Dailyn Martinez, with original and traditional music by Magdelys Savigne. Don't miss it this Thursday the 10th of February at 7pm CST (8pm EST)!
Thank you to our funders Canada Council for the Arts | Conseil des arts du Canada, SaskCulture, and SKArts! Thanks also to Free Flow Dance Centre, and Sightline Design.
Here's the link to the seventh piece: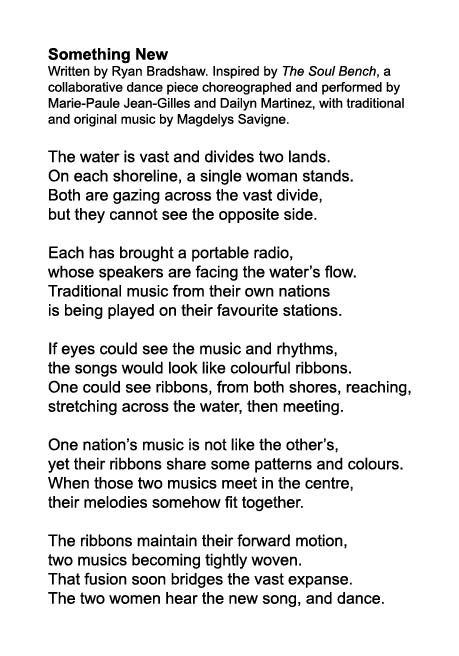 Marie-Paul Jean-Gilles Haiti – Toronto
Marie-Paul Jean-Gilles is a Canadian-born dancer of French speaking Caribbean descent. Marie-Paule grew up in an artistic environment under the tutelage of internationally celebrated singer and storyteller La Reine Soleil. As a child, Marie-Paule began her artistic journey by studying both dance theatre while living in the beautiful city Of Montréal, Québec. Marie-Paule has extensive experience performing, collaborating and teaching learners of all ages. Her artistic sphere includes Acting (commercial & independent projects), Radio hosting, Brazilian, Latin, Arabic, & French Créole Caribbean dancing. She has performed in numerous festivals and private events in Ontario. Marie-Paule Is truly passionate about dancing and the ability to encourage students to gain an appreciation for Creole culture, which is at the very centre of multiculturalism and diversity.
Dailyn Martinez Cuba – Toronto
Dailyn Martinez born in Havana, Cuba, graduated from Escuela Nacional de Espectaculos Musicales and Variedades with honours and as Second Best graduated student. In 2000, she was chosen to work as a Professional Dancer at the most important Musical Theatre and Variety "Teatro America" in Havana, Cuba. She also started teaching dance to kids, youth and adults as well as performing and choreographing for the Dance Company. she had the chance to work with prestigious personalities of Cuban Art and Music such as, National Ballet of Cuba, Company Segundo, Buena Vista Social Club, Omara Portuondo, National Folkloric Dance Company of Cuba and so many more. She was also able to represent her culture internationally in countries such as Spain, England and Germany.
If you enjoy Free Flow and want to support us please consider donating to our Canada Helps campaign. Everything helps!
https://www.canadahelps.org/en/charities/free-flow-dance-theatre-inc/campaign/