Free Flow Dance Theatre Company
Free Flow Board Members
Bios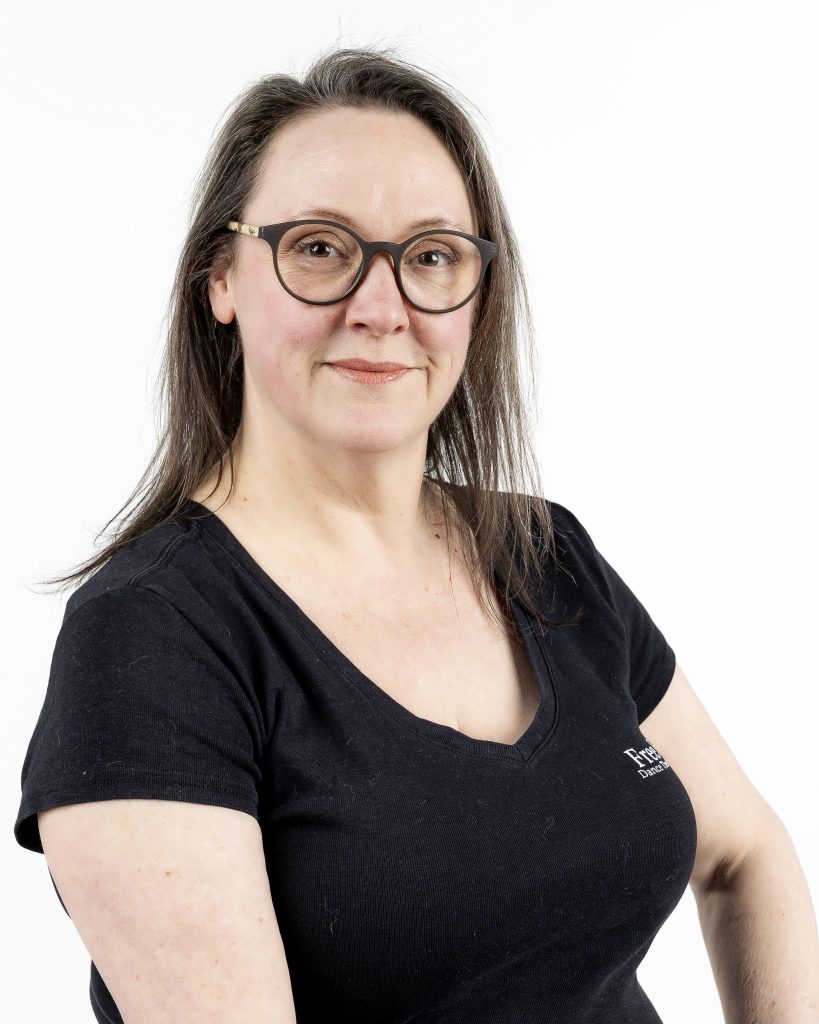 Jackie Latendresse
Artistic Director, Choreographer, Instructor, General Manager.
Growing up in the small rural town Kincardine did not deter Jackie from discovering and cultivating her love of Dance and Art. From a young age, she showed the promise of a career in Dance or at least on Stage. Her wonderfully supportive parents Jack and Dorothy were the first ones to send out a supporting hand to push her in the right direction and they have been looking on in wonder ever since.
Jackie Latendresse is an alumnus of the University of Waterloo where she obtained her H.B.A. in Dance with a minor in Fine Arts. She founded the Free Flow Dance Company and its adjoining studio in 1995, in Kitchener Ontario. The Company relocated to Toronto in the winter of 1996 and has since found a home base in Saskatoon. Jackie has been choreographing and producing her own shows since 1993 when she presented her first full evening of dance works at Abstract Machines that Recognise Certain Languages.
Her work has since been presented all over Canada at many types of venues ranging from the traditional professional theatres to school auditoriums, parks, shopping malls, and night clubs. She believes in making modern dance accessible to everyone and enjoys putting dance into unconventional venues in the tradition of Post Modernist choreographers.
Jackie is an avid believer in arts literacy and is involved in Arts and Cultural Strategic Planning Committees. She wants to help deconstruct the belief that dance is for the cultural elite only. Jackie is an artist who strives to make her views known through dance and dramatic movement. She often discusses feminism and female issues in her choreography. She prefers to keep her statements abstract and open for interpretation so they remain on an equal level with the movement. She is known for her visceral and emotionally driven works which fit as well into the world of theatre as they do dance.
Jackie has great dreams and aspirations for the future of Free Flow. She looks upwards and thinks big. She strives to break boundaries and express her innermost feelings and ideals. She has received various awards and acknowledgments including most recently named Woman of Distinction for arts and culture in Saskatoon 2021.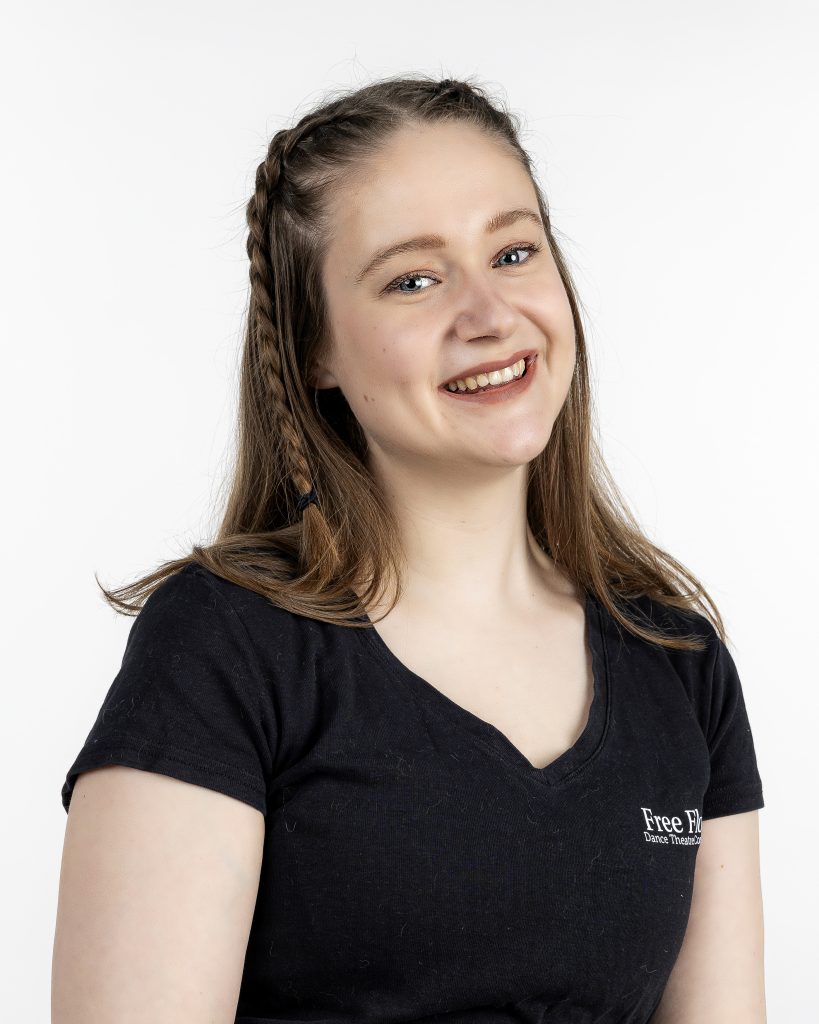 Bethany McMorine
Bethany McMorine is a dancer and mover who started training in Ottawa Ontario. She has a focus in contemporary dance and also has training in jazz, ballet and hip-hop. Bethany is a graduate of the York University dance program specializing in performance and choreography with a double major in environmental studies. Through the program, Bethany had multiple performance opportunities and was a member of the York Dance Ensemble. She was able to collaborate with professional artists such as Tracey Norman, Susan Lee and Syreeta Hector. Since graduating from the program she has had the opportunity to teach dance to vulnerable populations across Canada and in Portugal.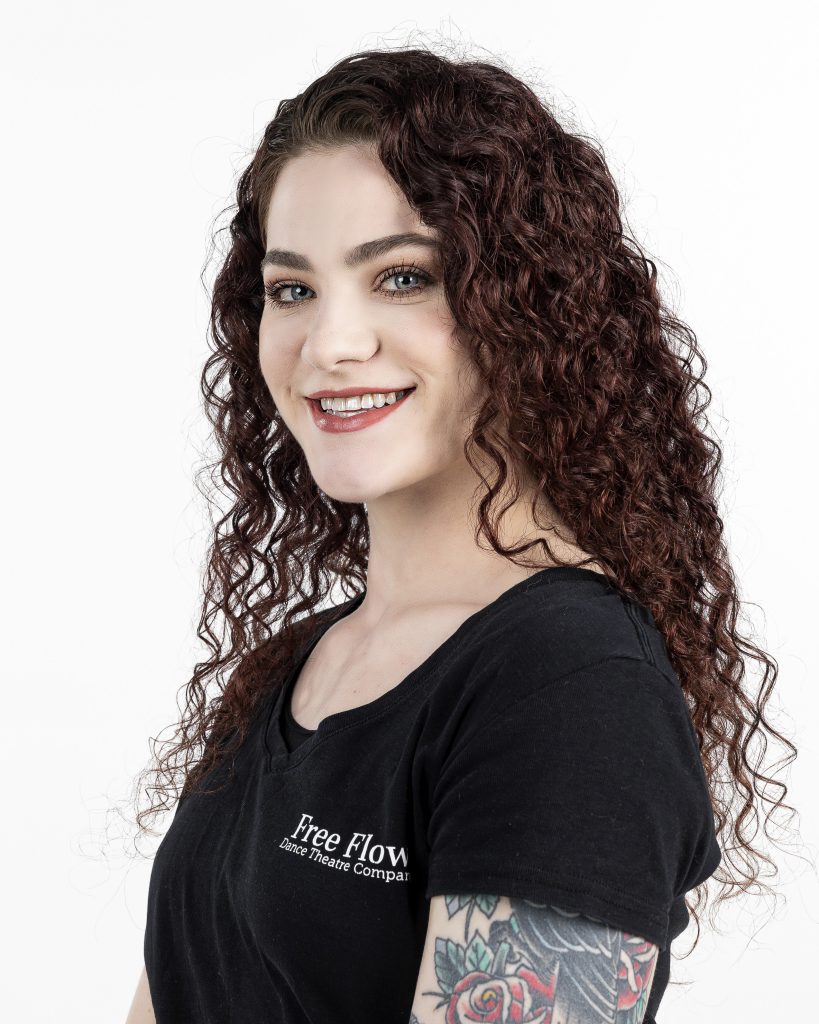 Rachel Saufert
Rachel Saufert started dance at the age of 4 taking tap, jazz and ballet at Kristy's Dance Fusion in Saskatoon. There she continued her dance training taking ADAPT tap and jazz exams along with her RAD ballet exams. Rachel trained in other dance styles such as lyrical, modern, contemporary and hip hop as she progressed as a dancer. She became competitive in these styles of dance and was competing until she was 19 years old. She also trained in Ukrainian dancing. Rachel was able to take a dance academy class that they offered at her high school. There she had the opportunity to learn many different styles of dance from different teachers. She joined the Free Flow Dance Theatre company in 2017.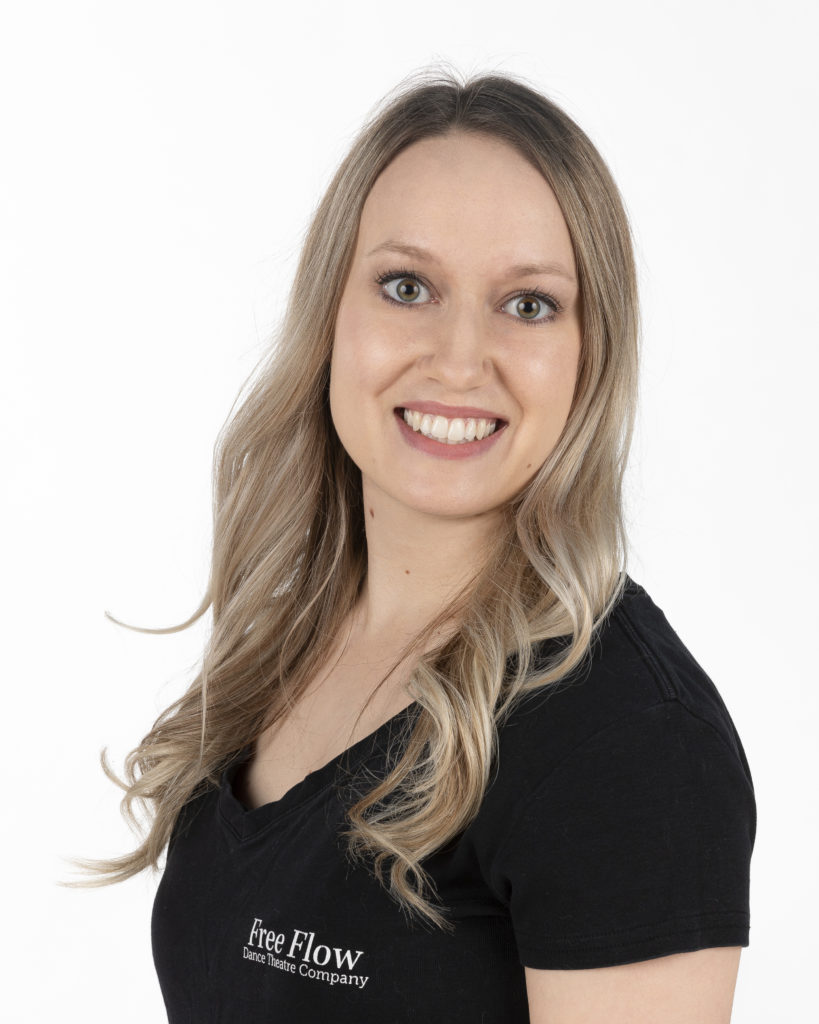 Taylor Zeller
Dancer – Administrative Assistant
Taylor Zeller is an emerging dance artist and choreographer, who began her dance training in her hometown of Medicine Hat, Alberta. She is a graduate of the York University dance program specializing in choreography and performance. During her time at York she performed in several iterations of York Dances, Dance Innovations and Bloom. Zeller performed in an art installation for Nuit Blanche 2017 entitled The Forest, under the direction of Media Artist Will Kwan. In collaboration with York University film students, Zeller choreographed work in 2017 for two short films entitled Happiness Does Not Wait and Synergy. Zeller had the privilege of debuting her new choreographic work entitled Undiscovered in the York showcase entitled The Near Distance (2019). She was a member of the York Dance Ensemble for two years which gave her the opportunity to learn and collaborate with established artists including Susan Lee, Suzanne Liska, Darcey Callison, Lisa Brkich, Christine Brkich, Raine Kearns and Emilio Colalillo. Zeller is excited to continue her growth as a dance artist with Free Flow Dance Theatre Company.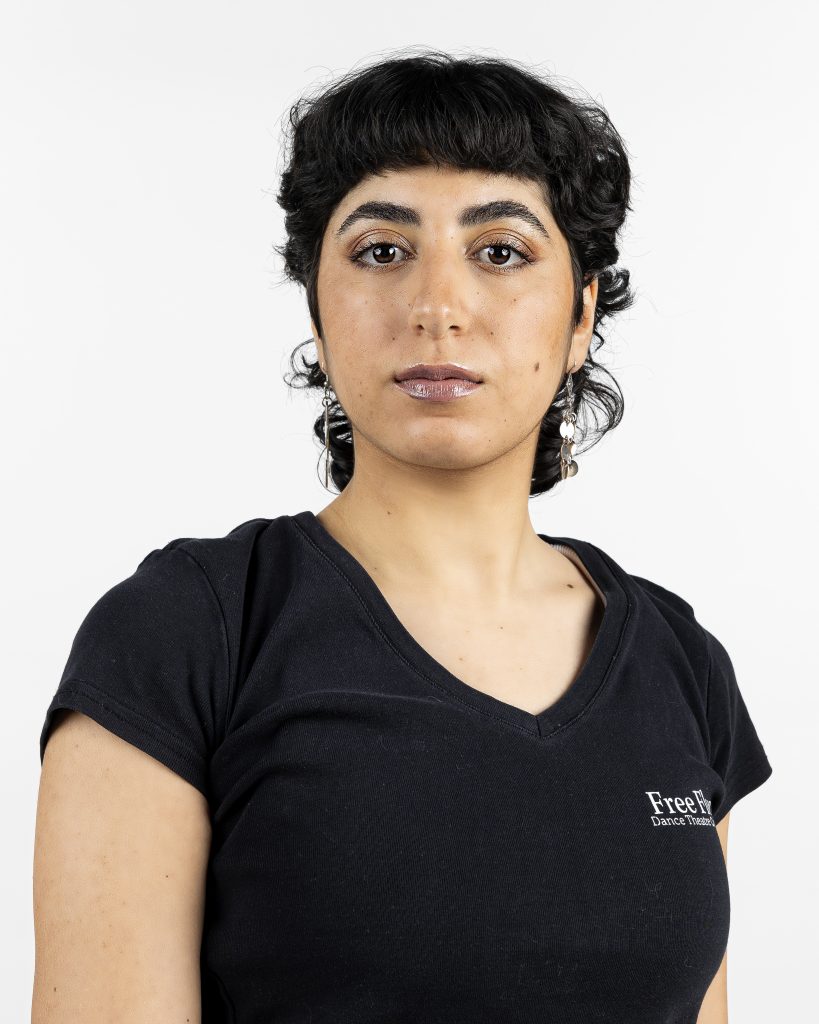 Rawda Mabrouk
Apprentice
Rawda Mabrouk is an artistic, vibrant, passionate dancer and choreographer from Egypt. She relocated to Saskatoon in 2021 and is striving to find a foothold in the dance world in Canada. She believes movement has the potential to convey more than what we can imagine. It's never just a movement but so much more. Since age four, she has danced and performed in Egypt. She started with ballet, which gave her the foundation to evolve into many more dance disciplines such as jazz, Egyptian folklore, modern and contemporary dance. She also has a gymnastics background. Rawda trained and performed at the Cairo Opera House, Samia Allouba ballet academy in Cairo, Precess dance studio in Cairo, Hers Center in Cairo, Dansabeel dance school in Cairo, Hany Hassan Ballet Academy, as well as with KSAMB Dance Company and Free Flow Dance Theatre in Saskatoon. She is seeking every opportunity to learn, grow and develop as a dance artist. She believes that learning never stops and one should never stop striving to improve oneself.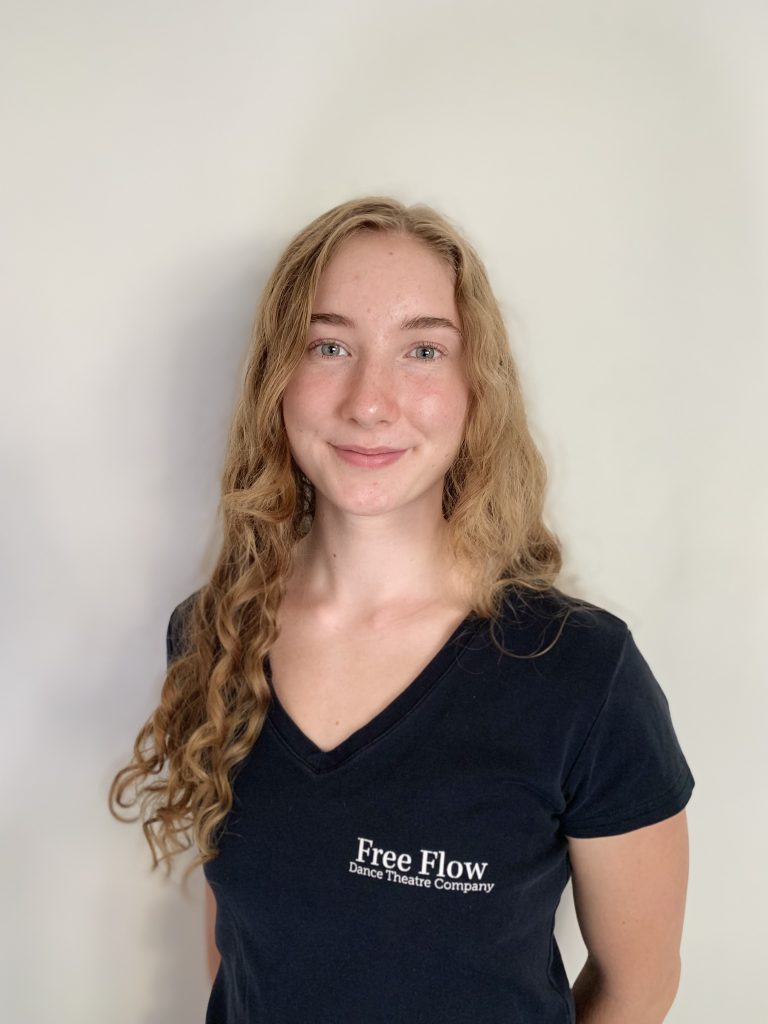 Anne Neudorf
Apprentice
Anne Neudorf is an emerging contemporary dancer. Growing up in Regina, Saskatchewan, Anne took classes and was part of the company at Youth Ballet of Saskatchewan. During her time there, she completed training up to Advanced I in the Royal Academy of Dance and has attended multiple renowned summer intensives throughout high school. Since then, she has completed professional training at the School of Contemporary Dancers in Winnipeg, Manitoba and is working toward a Bachelor of Arts Honours at the University of Winnipeg. Anne has worked with organizations such as Stephanie Ballard and Dancers: Landscape Dancing, Deaf Arts Manitoba Magic of ASL, New Dance Horizons Festival Stream of Dance, Youth Ballet of Saskatchewan, Arts Accessibility Network Manitoba and Winnipeg's Contemporary Dancers Emerging Artist Initiative. Anne is also a dance teacher and is inspired by movers of all ages. Anne continuously explores finding connection through contemporary dance and looks forward to contributing to the arts in Saskatchewan with Free Flow Dance Company.
Board of Directors
Clint Simpkins, board chair
Clint is a Carpenter and along with his wife Gloria they have been acquaintances and supporters of Jackie and the Free-Flow Dance Company for a number of years: helping out with personal transport when able, being patrons for numerous events and performances, as well as building sets and providing carpentry/woodworking services for Jackie and the troupe. Clint and Gloria are participants in social dancing (ballroom) and are patrons of the arts: symphony, dance, live Theatre, plus modern/historical artworks. Clint is a past director/ lifetime member of the Bergheim Community Association and a member/ past president of the Saskatoon Millennium Lions Club.
Stevie Horn
Stevie Horn returned to Saskatchewan after pursuing her Master's degree in archival studies at McGill University in 2013. Settling down in Saskatoon meant forming new connections, and the Free Flow Dance Center quickly became a place of belonging. Stevie is fortunate to have taken some of the burlesque classes offered at the dance centre, and is excited to provide a safe home for Free Flow's records at the Local History Room in the Saskatoon Public Library, where she works.
Shannon Swelka
Shannon is a librarian, mother, writer, and recreational thrifter who just moved back to the Caswell Hill neighbourhood after a couple of years in Hampton Village. She took her first burlesque class in 2017, has been performing with the Rosebuds for the last three years, and enjoys volunteering for events at the dance studio. A professional librarian, she currently works behind the scenes at the Saskatoon Public Library and has experience in HR, assessment, and policy writing.
David Forbes
David is/was a longtime resident of the Caswell neighbourhood where Free Flow Dance Theatre
resides. He cares deeply for culturally rich communities, appreciating the value that all the arts
bring to our lives. He believes very much that Free Flow is such an organization and wants to
help the dance company flourish and grow even more. David is a teacher turned local MLA for
Saskatoon Centre now fully retired and enjoying it! David served in Premier Lorne Calvert's
cabinet as Minister of Environment and then Labour. While active as an MLA until the election
of 2020, he supported and facilitated links between community groups, governments at all
levels and with local business. David gets that this is where the real energy lies and Free Flow
can be that vibrant medium for us!
Terri Bear-Linklater
I am a proud First Nations woman from Muskoday First Nations. My current position is working
full time as an Arts Ed. Teacher at Ernest Lindner School. I'm in the midst of my second year at
this school and I provide prep for teachers from kindergarten to Grade 5. My previous school
was Confederation Park school, which has now changed its name to Wahkohtowin and I was at
this school for 7 years. I provide prep time for the teachers from Kindergarten-Grade 5 both in
the English and Cree Culture programs. I have incorporated my husband, Lyndon Linklater to
come and talk about Treaties & Reconciliation to my classes as he is the Number 1 speaker for
the Office of the Treaty Commissioner, and my students loved him! I still do incorporate his
knowledge into my classes as this is needed during these difficult times with the grave sights
that have been found at various Residential Schools across Canada. I base much of my
programming on literacy connecting books and reading to art related activities and my students
loved this kind of dynamic in my teaching skills. I'm also the choir director and I teach ukulele
and I host a ukulele club for my older students. I love being an Arts Ed teacher because I am
passing on my passion for the arts to my students.

I'm an accomplished musician as I play acoustic/electric guitar and I'm a singer/songwriter for
an all-girl band and the band name is All Girl Chill. This is one of many things that I do in my
spare time. I have been involved in the dance community for over 30 years now. My form of
dance that I do is Flamenco and Middle East Dance, more commonly known as belly dancing.
I'm also a troupe member of the Rosebud Burlesque Club and been a proud member for 7 years
now.
Éveline Boudreau
Éveline has been interested in free movement and a follower of Free Flow Dance for many years. She is a multidisciplinary artist, now focusing on conceptual ideas and Performant Art. Her performance projects involve interaction and communication with her audience, often using movements, examining actual issues such as the effects of the Internet and technology. These performances take place in public spheres, usually outdoors. She has performed in Free Flow Dance events, including its 20th Anniversary Festival celebration at the Refinery in 2015. Her piece was called: Elles nous manquent… Missing… She is a firm believer: we shall bring art to people!
Kate Matthews
Kate Matthews is a wardrobe stylist and brand consultant working with non-profit organizations,
businesses, entertainment productions and public figures including musicians, actors, models,
politicians and athletes. Kate has worked with local organizations such as Dress for Success,
SaskTel Saskatchewan Jazz Festival, Nutrien Children's Festival of Saskatchewan, Saskatoon
Fashion and Design Festival, Remai Modern and SaskMusic. Her national placement and client
list includes the JUNO Awards, Canadian Country Music Association, ELLE magazine, Globe &
Mail, National Post, CityTV, CBC, CTV, GLOBAL TV and the Food Network. Outside of work,
Kate enjoys dancing with the Rosebud Burlesque Club, spending time with family, friends and
her three cats—Stella, Charlie and Aria.
Isaac Bond
Isaac Bond is a poet, songwriter, support worker, and roofer born and raised in
Saskatoon. Formerly the executive director of Tonight it's Poetry and project coordinator
of Write Out Loud, he has long been involved in both administration and performance of
the literary arts in Saskatoon. He has also hosted several events, including some for the
Free Flow dance community. Knowing first hand what an appreciative and talented
community that is, he is delighted and honoured to serve as a member of their board.