Free Flow Dance Theatre Company
Free Flow Board Members
Bios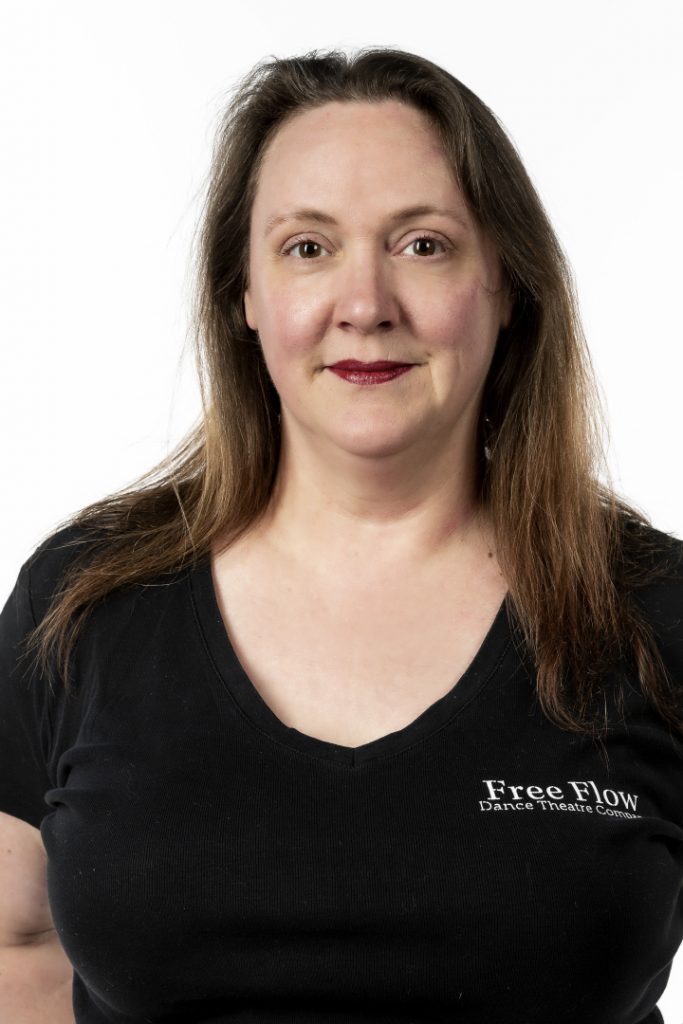 Jackie Latendresse
Artistic Director, Choreographer, Instructor, General Manager.
Growing up in the small rural town Kincardine did not deter Jackie from discovering and cultivating her love of Dance and Art. From a young age, she showed the promise of a career in Dance or at least on Stage. Her wonderfully supportive parents Jack and Dorothy were the first ones to send out a supporting hand to push her in the right direction and they have been looking on in wonder ever since.
Jackie Latendresse is an alumnus of the University of Waterloo where she obtained her H.B.A. in Dance with a minor in Fine Arts. She founded the Free Flow Dance Company and its adjoining studio in 1995, in Kitchener Ontario. The Company relocated to Toronto in the winter of 1996 and has since found a home base in Saskatoon. Jackie has been choreographing and producing her own shows since 1993 when she presented her first full evening of dance works at Abstract Machines that Recognise Certain Languages.
Her work has since been presented all over Canada at many types of venues ranging from the traditional professional theatres to school auditoriums, parks, shopping malls, and night clubs. She believes in making modern dance accessible to everyone and enjoys putting dance into unconventional venues in the tradition of Post Modernist choreographers.
Jackie is an avid believer in arts literacy and is involved in Arts and Cultural Strategic Planning Committees. She wants to help deconstruct the belief that dance is for the cultural elite only. Jackie is an artist who strives to make her views known through dance and dramatic movement. She often discusses feminism and female issues in her choreography. She prefers to keep her statements abstract and open for interpretation so they remain on an equal level with the movement. She is known for her visceral and emotionally driven works which fit as well into the world of theatre as they do dance.
Jackie has great dreams and aspirations for the future of Free Flow. She looks upwards and thinks big. She strives to break boundaries and express her innermost feelings and ideals. She has received various awards and acknowledgments including most recently named Woman of Distinction for arts and culture in Saskatoon 2021.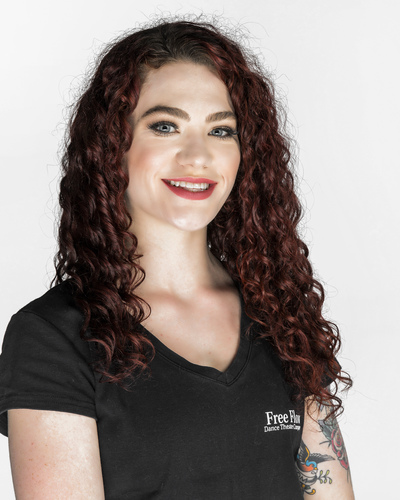 Rachel Saufert
Rachel Saufert started dance at the age of 4 taking tap, jazz and ballet at Kristy's Dance Fusion in Saskatoon. There she continued her dance training taking ADAPT tap and jazz exams along with her RAD ballet exams. Rachel trained in other dance styles such as lyrical, modern, contemporary and hip hop as she progressed as a dancer. She became competitive in these styles of dance and was competing until she was 19 years old. She also trained in Ukrainian dancing. Rachel was able to take a dance academy class that they offered at her high school. There she had the opportunity to learn many different styles of dance from different teachers. She joined the Free Flow Dance Theatre company in 2017.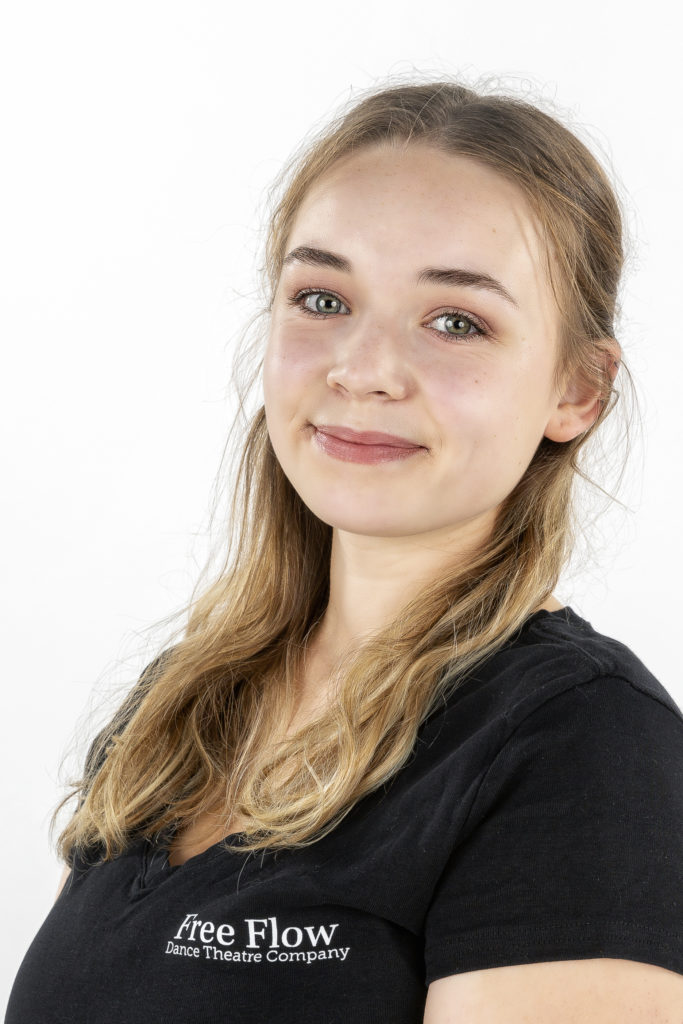 Aiyana Ruel
Aiyana Ruel is a dynamic dance artist and performer from Vancouver, BC. Aiyana began professional training in ballet, modern, and contemporary under Artemis Gordon at Arts Umbrella. She furthered her training in Toronto, where she obtained a BFA in Dance from York University. Under the direction of Susan Lee, Aiyana was a member of the York Dance Ensemble, where she worked collaboratively with peers and choreographers. Through various opportunities, Aiyana has worked with international artists including Peggy Baker, Ohad Naharin, and Lali Ayguadé. While on an academic exchange at the University of Chichester, she had the opportunity to work and train with various UK-based artists. She has also participated in choreographic workshops with Social Growl Dance, the Gaga Intensive Summer Course in Israel, and the Catch8 workshop series in Ireland. Aiyana is passionate about movement experimentation and creative process, and is eager to explore that further with Free Flow Dance Theatre Company.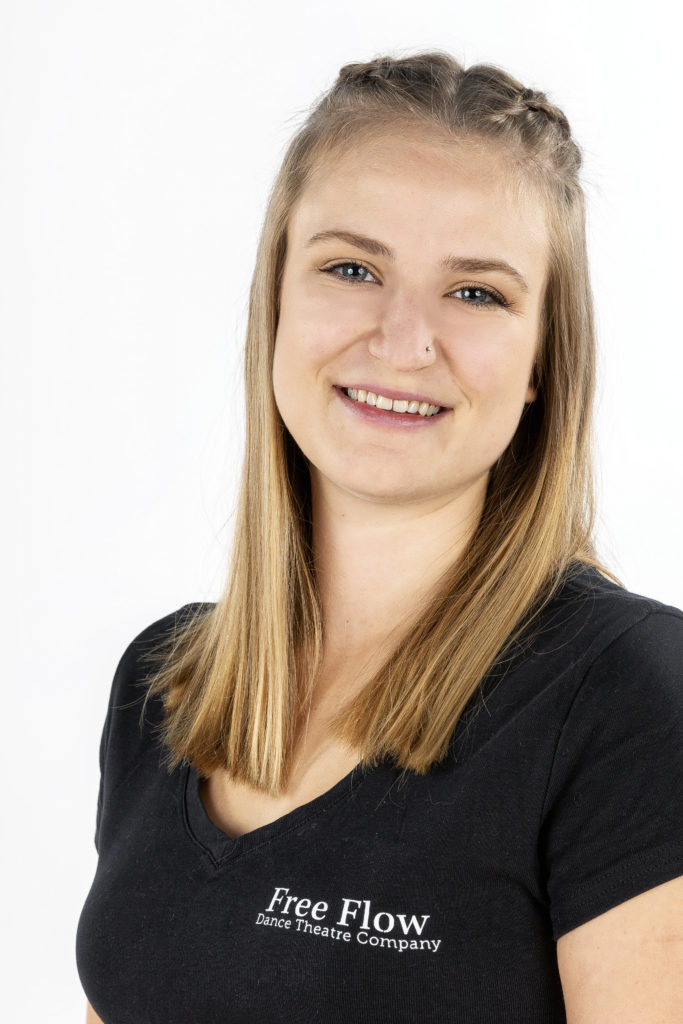 Shannon Pybus
Shannon Pybus is an emerging dance artist originally from Markham, Ontario. She graduated from York University in 2020 with a BFA in Dance specializing in choreography and performance. During her time at York University, she was a company member with the York Dance Ensemble for two seasons where she worked with prominent artists including Susan Lee, Nina Milanovski, Raine Madison, Emilio Colalillo, Darcey Callison and Suzanne Liska. Shannon has studied ballet, modern (Limon and Graham), jazz, and contemporary dance forms. As an emerging creator, she is interested in interactive media as an element of live performance. She is excited to join Free Flow Dance Theatre and get to know Saskatoon as she visits the Prairies for the first time.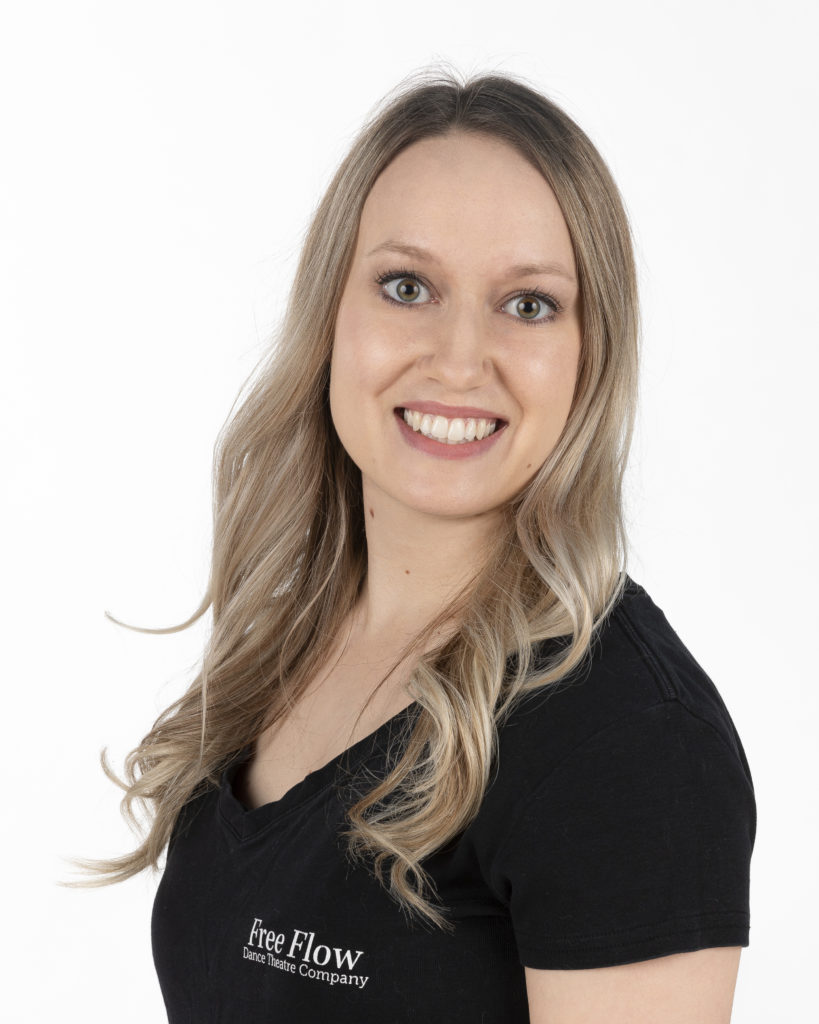 Taylor Zeller
Dancer – Administrative Assistant
Taylor Zeller is an emerging dance artist and choreographer, who began her dance training in her hometown of Medicine Hat, Alberta. She is a graduate of the York University dance program specializing in choreography and performance. During her time at York she performed in several iterations of York Dances, Dance Innovations and Bloom. Zeller performed in an art installation for Nuit Blanche 2017 entitled The Forest, under the direction of Media Artist Will Kwan. In collaboration with York University film students, Zeller choreographed work in 2017 for two short films entitled Happiness Does Not Wait and Synergy. Zeller had the privilege of debuting her new choreographic work entitled Undiscovered in the York showcase entitled The Near Distance (2019). She was a member of the York Dance Ensemble for two years which gave her the opportunity to learn and collaborate with established artists including Susan Lee, Suzanne Liska, Darcey Callison, Lisa Brkich, Christine Brkich, Raine Kearns and Emilio Colalillo. Zeller is excited to continue her growth as a dance artist with Free Flow Dance Theatre Company.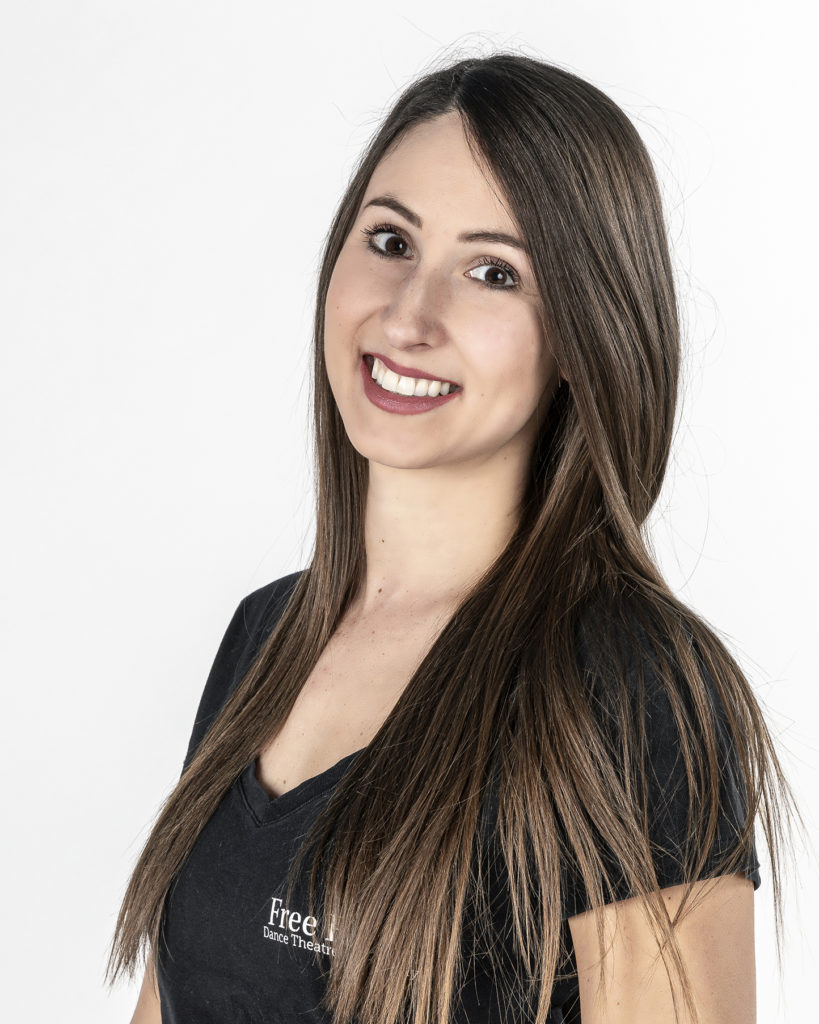 Laura Turnbull
Laura began dancing at the age of 10 at Studio One. It instantly became her passion. She trained in a variety of styles and danced competitively until she was 18. After high school, she attained her Bachelor of Science in Kinesiology at the U of S, while continuing to dance with local groups. Since 2012, she has danced professionally in Singapore, Mexico, Costa Rica, Panama and India. Laura has worked with many world-renowned choreographers and danced alongside huge Bollywood stars such as Salman Khan, Ranveer Singh, Akshay Kumar and Jacqueline Fernandez to name a few.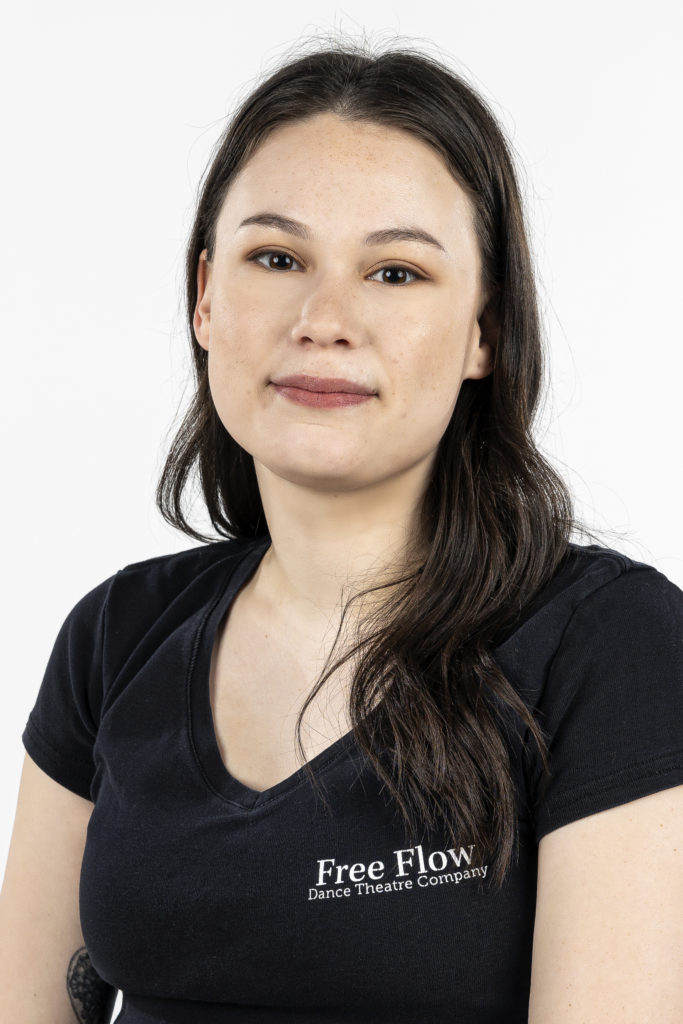 Maggie Lucas
Originally from Smiths Falls, Ontario dynamic contemporary performer Maggie Lucas is driven by her desire to communicate with people through movement. A graduate of the BFA Dance Program at York University, Maggie has furthered her technique and artistry under the guidance of Tracey Norman, Helen Jones, John Ottman, and Julia Sasso and worked with established choreographers Freya Björg Olafson, Michael Caldwell, Susan Lee, and Maxine Heppner . She was a member of the York Dance Ensemble for their 2018-2019 season and has performed in choreographic works at the 2020 London Dance Festival as well as improvisation-based performances with Coexisdance in Toronto. Most recently she was involved in an Ontario Arts Council funded dance film Making Sense of Something that Doesn't Make Sense under the artistic direction of Morgan Stasiewicz.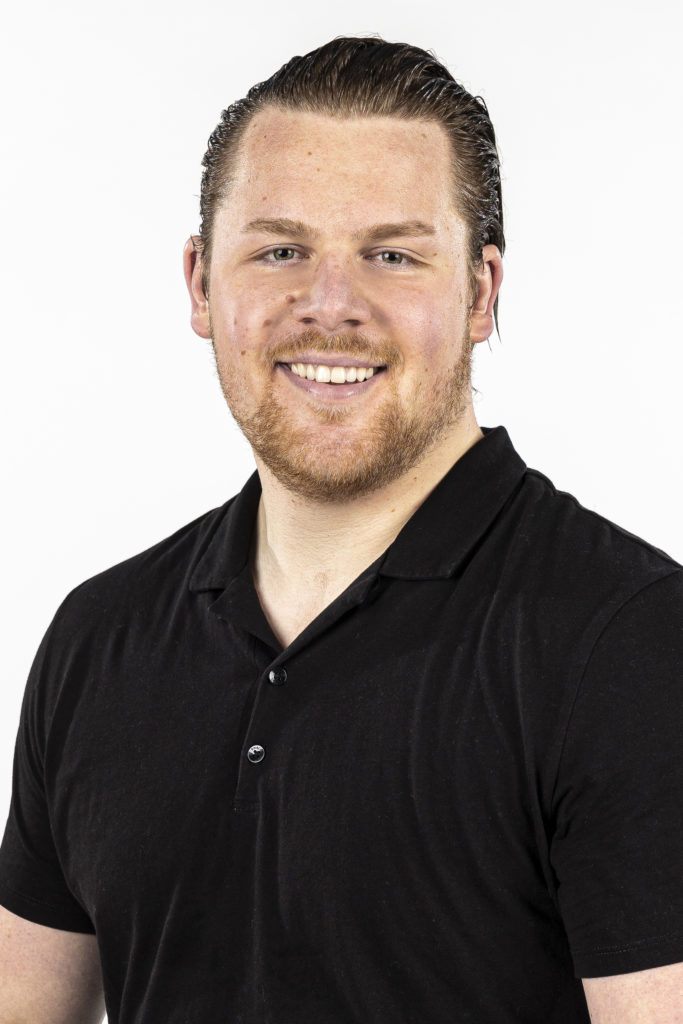 Philip McDermott
Philip McDermott is from St.John's, Newfoundland. He attended the School of Toronto Dance Theatre from 2014 – 2017, receiving both The Walker Wood Foundation Bursary and The Special Graduating Student Award – The Sharon B. Moore Solo Project. In 2018, he continued his education in the form of mentorship with Paul André Fortier in Montreal, and as a guest student at Nederlands Dans Theater. He has danced in repertory works by Massimo Agostinelli, Kate Alton, Paul -André Fortier, Peggy Baker, Marc Boivin, Danny Grossman, Allen Kaeja, James Kudelka, Sharon B. Moore, Julia Sasso, Darryl Tracy, David Earle, Patricia Beatty, Laurence Lemieux, Christopher House, and Peter Randazzo. Philip's artistic practice contains elements from all of the disciplines he has trained in: Dance, musical theatre, acting, singing, visual arts, Taekwondo and figure skating.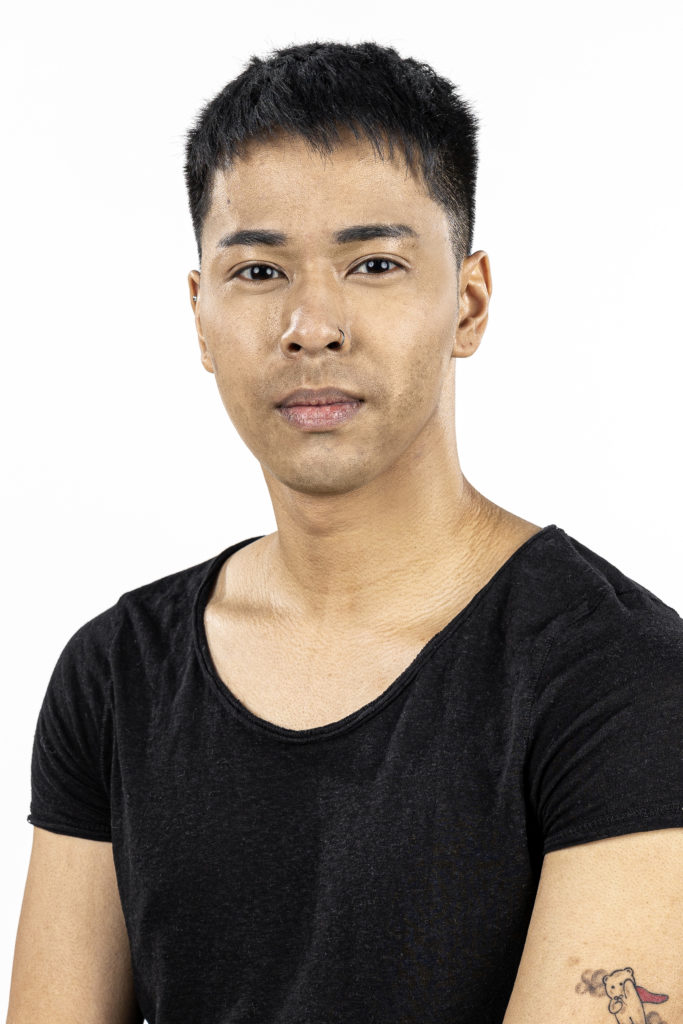 Derek Souvannavong
Derek Souvannavong is a Toronto-based emerging artist, originating in Ottawa. A graduate of the BFA. Honours Dance Program at York University, with a specialization in choreography and performance, he has formed a love for contemporary dance through his studies and was a company member of the York Dance Ensemble. He has trained under notable artists such as: Tracey Norman, Helen Jones, Syreeta Hector, Susan Lee and Julia Sasso. Derek has performed in productions of York Dances (2018-2022) as well as Bloom (2018) where he worked with Connie Oreamuno. Derek has also trained with ProArteDanza through the EstateDanza Summer Intensive (2021) under direction of Roberto Campanella, Sasha Ludavicious and Robert Glumbeck. He has also choreographed in York Dances (2019-2021) and received the Spedding Memorial Scholarship in Dance for choreography, as well as the Menaka Thakkar Award in World Dance. Also intrigued by traditional Lao dance forms, he wishes to continue exploring relations between Lao dance forms and the western diaspora of contemporary dance.
Board of Directors
Clint Simpkins, Finance Chair
Clint is a Carpenter and along with his wife Gloria they have been acquaintances and supporters of Jackie and the Free-Flow Dance Company for a number of years: helping out with personal transport when able, being patrons for numerous events and performances, as well as building sets and providing carpentry/woodworking services for Jackie and the troupe. Clint and Gloria are participants in social dancing (ballroom) and are patrons of the arts: symphony, dance, live Theatre, plus modern/historical artworks. Clint is a past director/ lifetime member of the Bergheim Community Association and a member/ past president of the Saskatoon Millennium Lions Club.
Stevie Horn, Secretary
Stevie Horn returned to Saskatchewan after pursuing her Master's degree in archival studies at McGill University in 2013. Settling down in Saskatoon meant forming new connections, and the Free Flow Dance Center quickly became a place of belonging. Stevie is fortunate to have taken some of the burlesque classes offered at the dance centre, and is excited to provide a safe home for Free Flow's records at the Local History Room in the Saskatoon Public Library, where she works.
Joan Goodman
Joan's love of dance and music came from her roots, she began studying Middle Eastern Dance with Dancegypt Dance Company in the winter of 1998 and was performing with the troupe by 2000. She plans to continue dancing for as long as her body lets her! She is also a signed model with a local talent agency and loves to act. To keep food on the table and a roof over her head, she works as an Executive Assistant. She has a diploma in Office Administration through SAIT and is a Commissioner for Oaths and Marriage Commissioner for Saskatchewan. She is a firm believer in global citizenship and volunteers extensively in Saskatoon's diverse communities."
Donna C Bretell
Donna began her love of dance with ballet and tap lessons at the age of four, followed by classes in highland, jazz, belly and ballroom. In addition to dance she enjoyed a wide variety of activities including university studies. She earned a BA Honours in Psychology and a Master of Education in Educational Psychology. Prior to retirement Donna worked at the University of Saskatchewan in an administrative position which included working with students, program design, numerous other responsibilities, with a few evenings a week spent as a therapist providing personal and couples counselling with a community agency. Retirement, after thirty years of employment with the U of S has not diminished her love of dance and she remains active in the community both in learning new styles of dance and as a member of the Free Flow Board of Directors.
Gina DiPaolo
A strong foundation in ballet, jazz, contemporary, modern dance and contact improvisation. Gina has studied, worked and performed with world renowned teachers such as Linda Rubin in modern dance and various middle eastern dancers including Ahmed Fekry, Jalilah, Yousry and Nourhan Sherif, Aziza, Mahmood Reda, Aida Nour and many more too numerous to mention. Gina has travelled to Egypt on two occasions to attend the Nile Group Festival, attending workshops and gala shows and even performing with the Egyptian star Lucy! That's an interesting story! Gina's passion for dance flows with love and joy in classes, performances, workshops and shows!
Sandy Bonny
Sandy Marie Bonny is a literary and visual artist with an academic background in the geological sciences. While she has never been involved in dance herself, she is a fan of the performing arts, and proud parent to an eleven-year-old dancer. A long time Treaty 6 and Caswell Hill resident, Sandy is excited by opportunities for community-engaged performance to communicate across barriers of language and culture in our journey toward reconciliation in the arts.
Éveline Boudreau
Éveline has been interested in free movement and a follower of Free Flow Dance for many years. She is a multidisciplinary artist, now focusing on conceptual ideas and Performant Art. Her performance projects involve interaction and communication with her audience, often using movements, examining actual issues such as the effects of the Internet and technology. These performances take place in public spheres, usually outdoors. She has performed in Free Flow Dance events, including its 20th Anniversary Festival celebration at the Refinery in 2015. Her piece was called: Elles nous manquent… Missing… She is a firm believer: we shall bring art to people!
Kate Matthews
Kate Matthews is a wardrobe stylist and brand consultant working with non-profit organizations,
businesses, entertainment productions and public figures including musicians, actors, models,
politicians and athletes. Kate has worked with local organizations such as Dress for Success,
SaskTel Saskatchewan Jazz Festival, Nutrien Children's Festival of Saskatchewan, Saskatoon
Fashion and Design Festival, Remai Modern and SaskMusic. Her national placement and client
list includes the JUNO Awards, Canadian Country Music Association, ELLE magazine, Globe &
Mail, National Post, CityTV, CBC, CTV, GLOBAL TV and the Food Network. Outside of work,
Kate enjoys dancing with the Rosebud Burlesque Club, spending time with family, friends and
her three cats—Stella, Charlie and Aria.
Isaac Bond
Isaac Bond is a poet, songwriter, support worker, and roofer born and raised in
Saskatoon. Formerly the executive director of Tonight it's Poetry and project coordinator
of Write Out Loud, he has long been involved in both administration and performance of
the literary arts in Saskatoon. He has also hosted several events, including some for the
Free Flow dance community. Knowing first hand what an appreciative and talented
community that is, he is delighted and honoured to serve as a member of their board.