Better late than never! 25th/27th Anniversary Gala: Free Flow Dance Theatre Company's "REUNITE!"
For years now, I have taken in dance performances – mostly Modern Dance – because of the way they make me feel and think & because of the way they change my perception & my experience of the world. The experience of every-day things is changed completely in me after experiencing such a dance performance.
This one in particular offered plenty of food for thought & feeling – dealing with themes of human connections & ultimately our connection with Mother Earth.
The program began with Terrill Maguire's "Sisterhood Songs" danced by Free Flow Dance Theatre Company members Maggie Lucas, Shannon Pybus, Aiyana Ruel, Rachel Saufert, & Taylor Zeller. This fun and colourful piece accompanied by music by Roaula Said, Earnie Tollar, & Derek Gray, reflected on supportive relationships between women.
Photos by Ken Greenhorn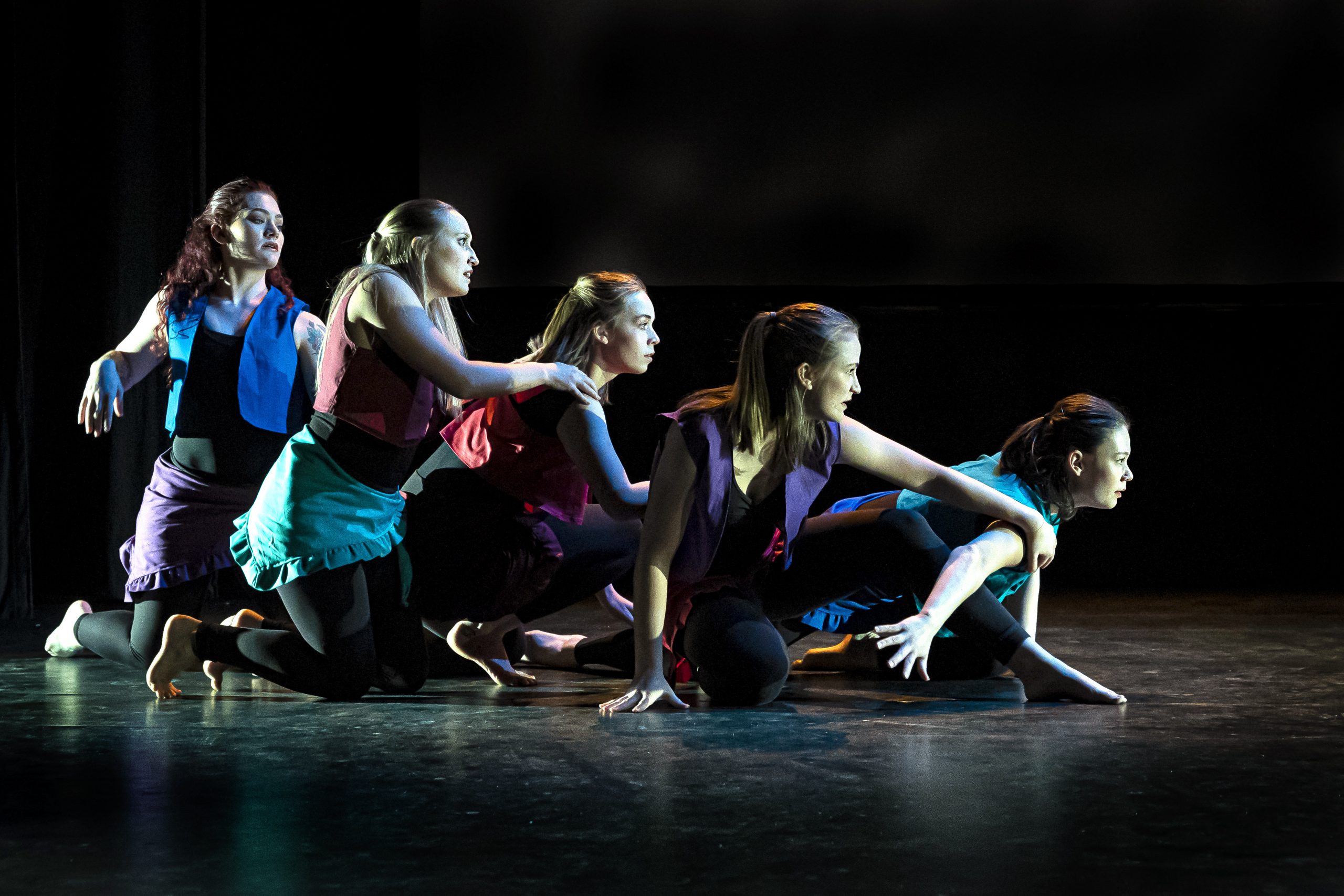 "Two Men and Their Lives" featured collaboratively created work by choreographer Newton Moraes & Philip McDermott – danced by Philip McDermott. In this piece, we see reflections of current and projected life activities expressed in dance and gesture. The suitcase prop is used incredibly effectively & expressively and the storytelling is clear and engaging throughout.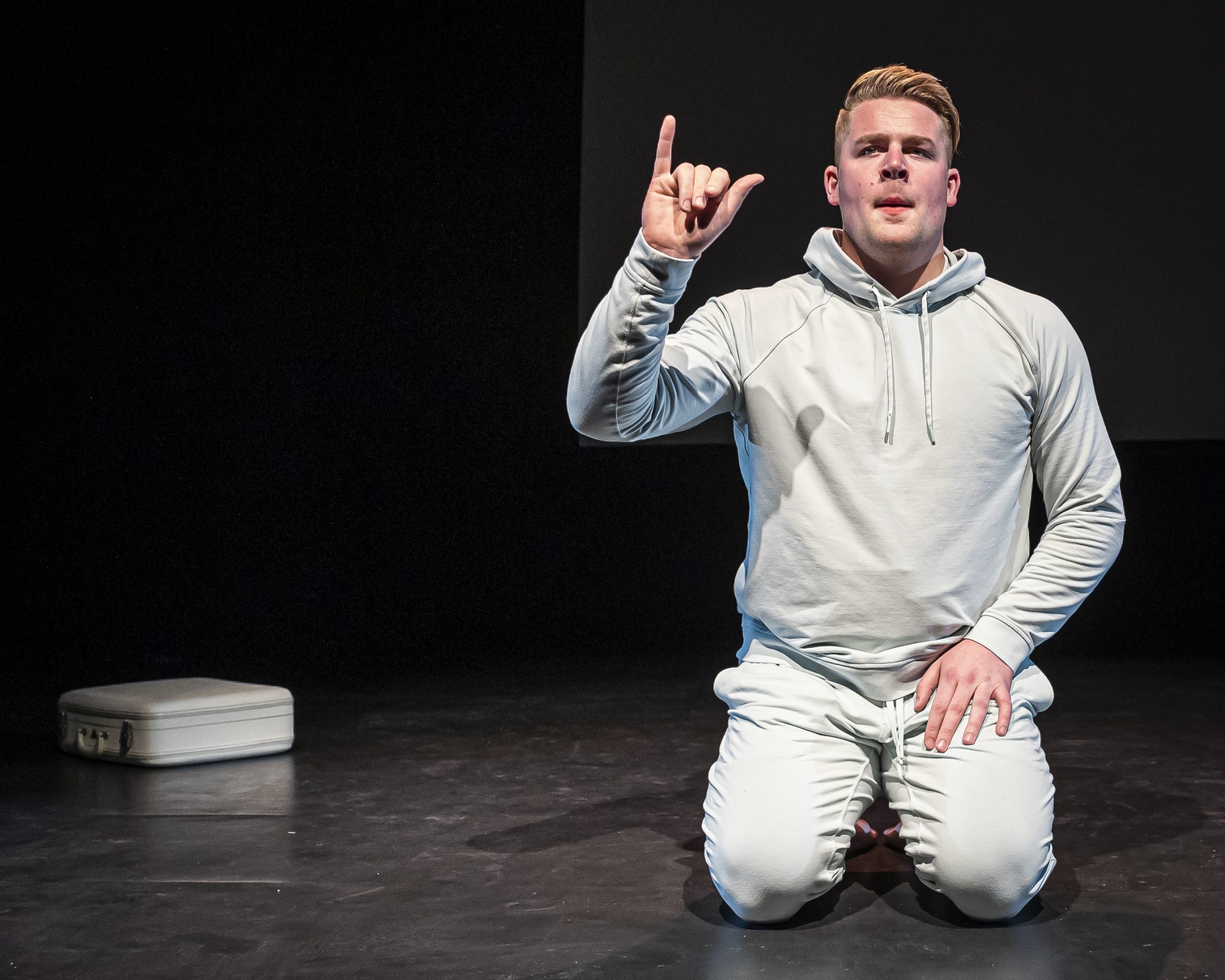 A duet between dancers Taylor Zeller & Rachel Saufert came next: "Mulheres" – created & choreographed by Newton Moraes – again a piece that shows life from 2 perspectives – exploring women's roles & challenges in life: societal demands of them, motherhood, friendship, connection, performance, giving, supporting, aging, & aspirations. This was a very strong & expressive piece that drew on the performers' dance & movement abilities as well as their ability to express themselves verbally – relating their stories directly to the audience – a very effective & personal touch.
The music chosen for both of Newton Moraes' choreographies helped so much to support the storytelling in both cases: Extent by Hillmer & Overflow by Rival Consoles for "Two Men and Their Lives" and Amour Imaginaire and excerpts from Path 17 by Max Richter for "Mulheres".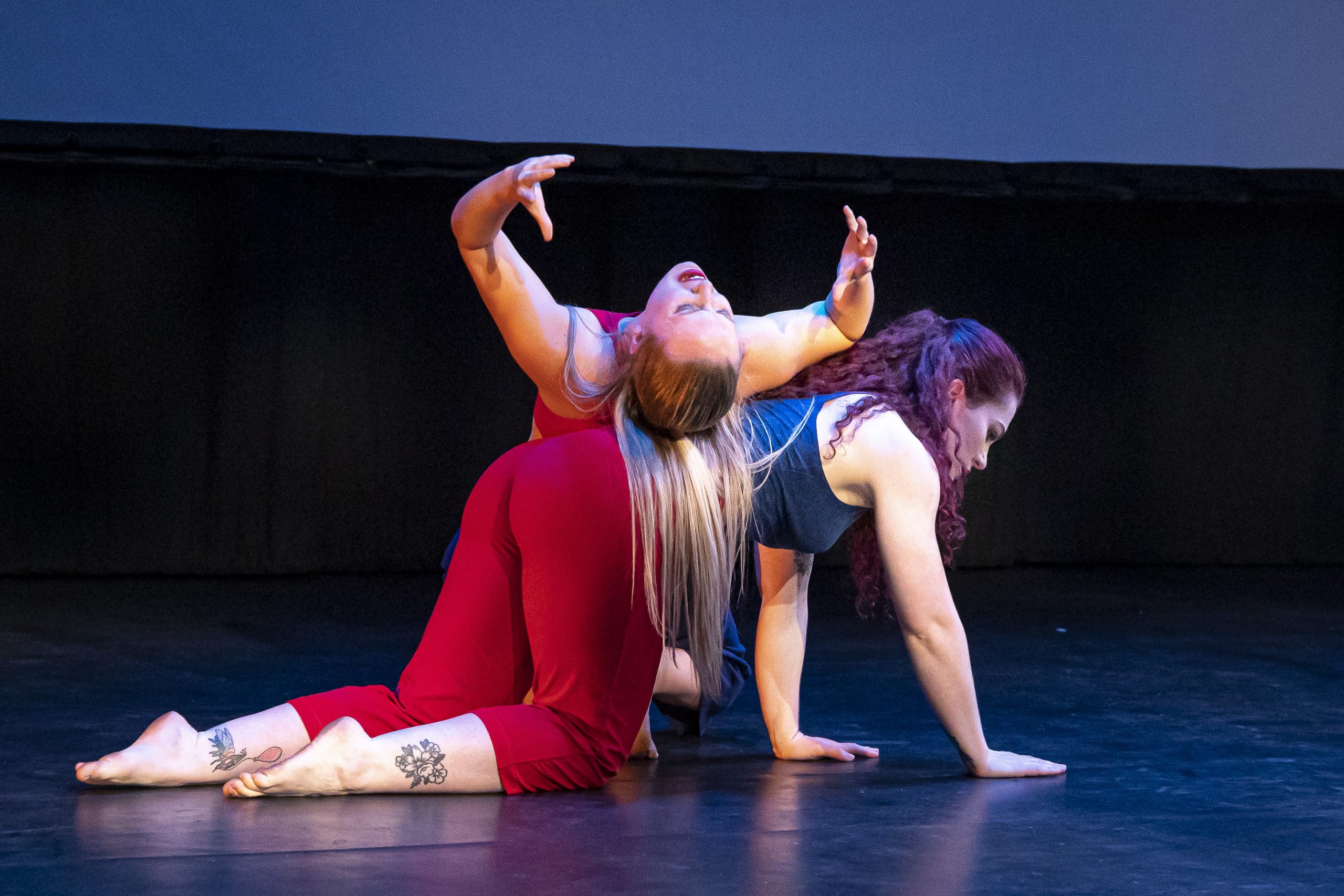 Resurgence by Terill Maguire: Originally commissioned by Dance Ontario in 2005, this piece danced by Aiyana Ruel & Philip McDermott challenged us to explore deeply the emotions involved in relationships that either weather the storms of transgressions or don't. In this piece, we are intimately invited into the navigation process of a couple in a committed relationship. Difficult emotions are explored through dance, movement, & connection between 2 beautiful performers. The piece seems to find some peace by the time it reaches its end. Music accompanying this dance was composed by Lawrence Shragge.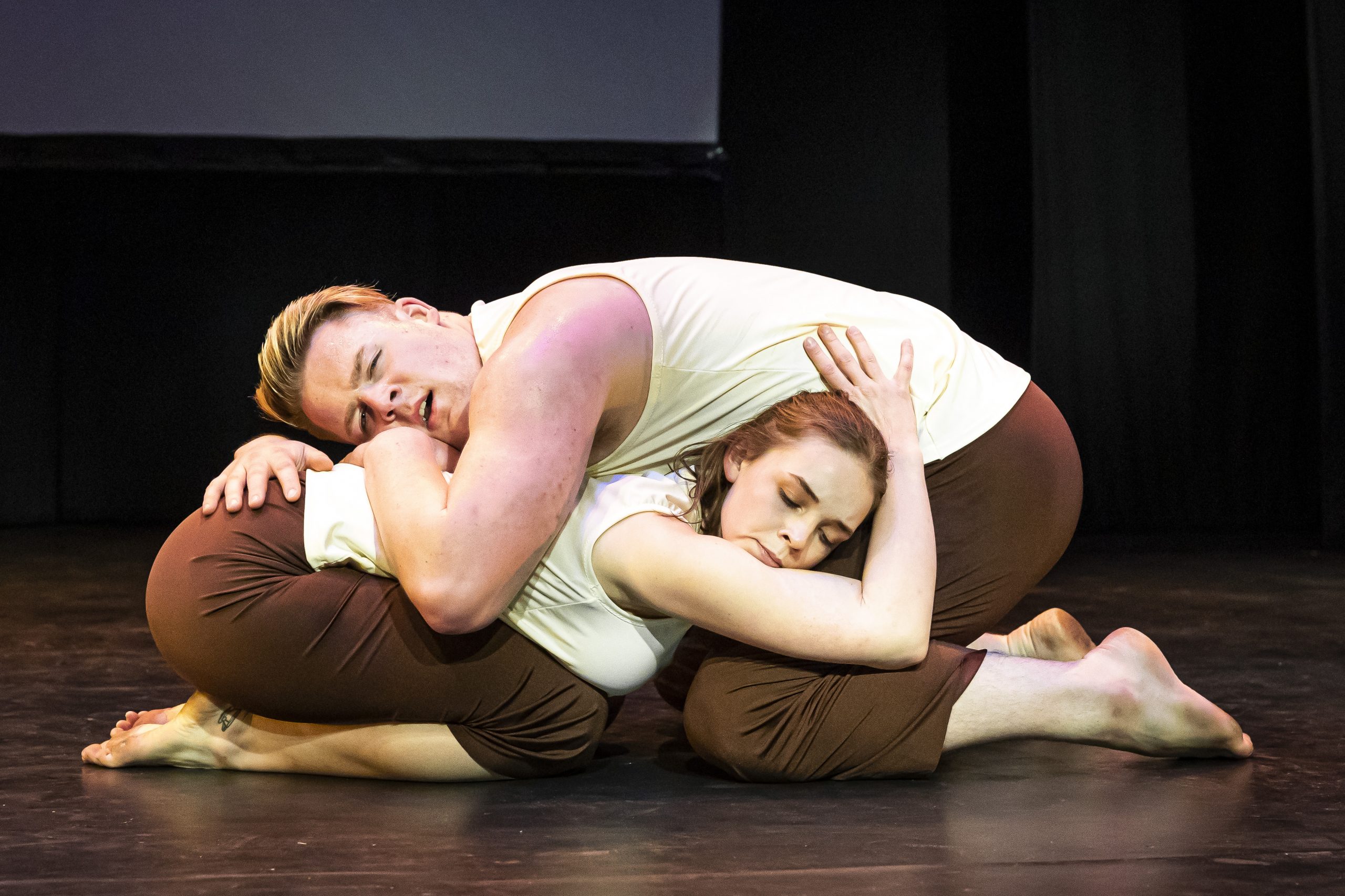 After intermission, "Earth: Womb of Life (a Pantomime for Our Time)" – choreographed by Danny Grossman & Free Flow Dance Theatre Artistic Director, Jackie Latendresse. This piece involved all 7 of the company dancers: Maggie Lucas, Philip McDermott, Shannon Pybus, Aiyana Ruel, Rachel Saufert, Derek Souvannavong, & Taylor Zeller – exploring life, love, parenthood, childhood, childhood trauma, war, PTSD, suicide, death, and all the emotions that pair with these. Using dance, movement, gesture, & props, we are guided through bringing life into existence, love, play, cruelty, war, a variety of coping methods, death – all things human – ending with an image of earth and a solo dancer (Aiyana Ruel) dressed as a pregnant mother-to-be moving through expressions of frustration & anger, peace & expectation. The piece is accompanied by sounds and images including a moving quote from Danny Grossman's mother. It was conceived & developed by Danny Grossman & Jackie Latendresse. Music/Soundscape and Visual Compilation for this was done by Eddie Kastrau, a dancer with the Grossman Dance Company since 1986. Costumes and props for this piece were done by Lili with thanks to Linda Coe Kirkham.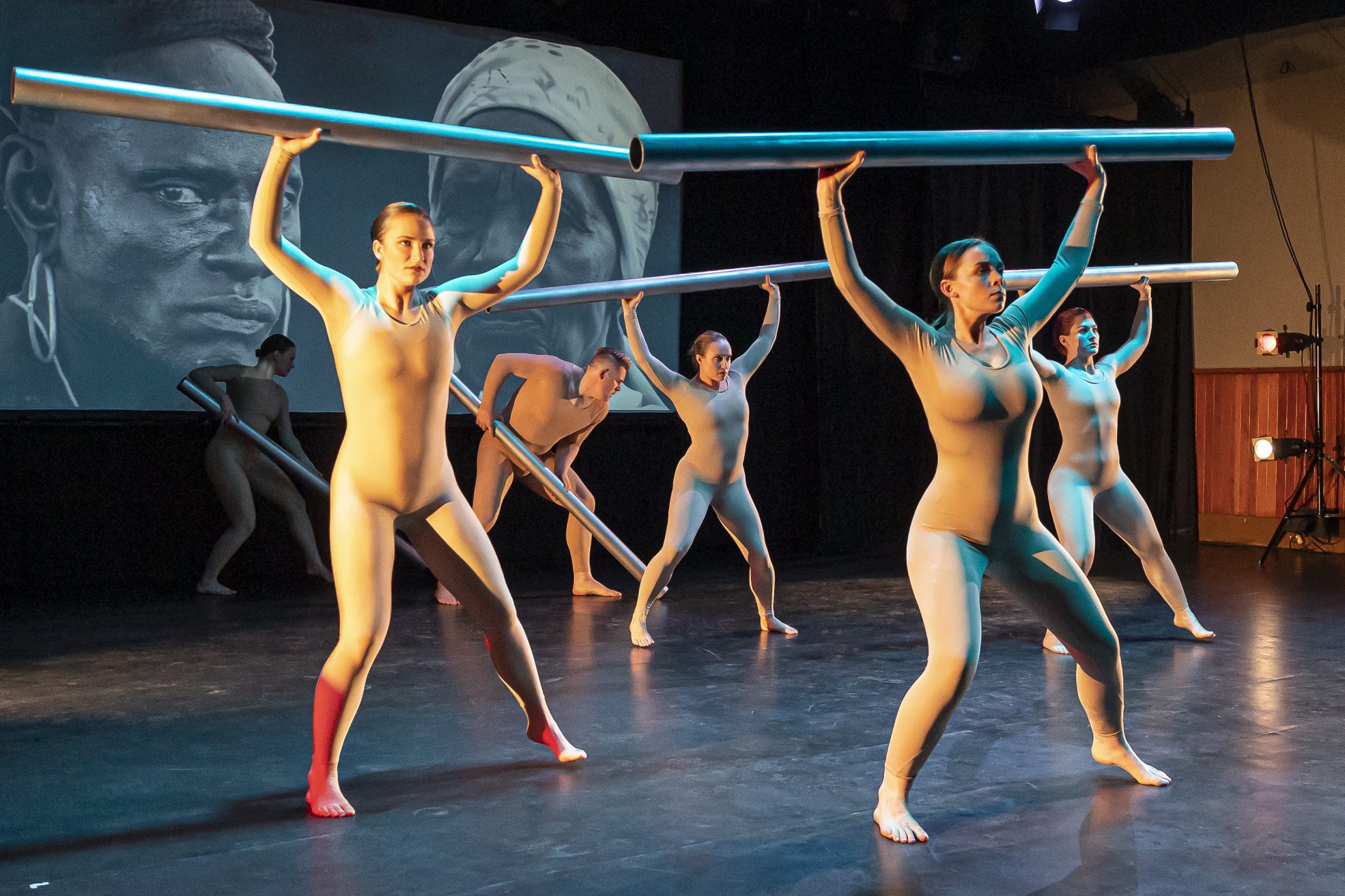 Dance can thrill & challenge an audience like no other Artform – engulfing the audience in an emotional audio-visual experience. Terrill, Newton, Jackie, Danny, and Eddie all did a wonderful job of telling their stories & taking the audience on a ride for this remarkable Anniversary Gala through the work of the fine rising star dancers who were part of the Free Flow Dance Theatre Company these past couple years. Brava e Bravo Tutti!!! Et, Merci Beaucoup!!!
Anna Marie Bekolay is a multidisciplinary artist, composer, collaborative musician (voice, violin, recorder), performer, private music teacher, clinician, music adjudicator, gardener, & dance enthusiast who loves and supports all things Arts related.