Wednesday, December 9, 2020 at 7:30 pm - 8:30 pm
Join us Wednesday, December 9th 7:30 PM CST as Free Flow Dance Theatre celebrates its 25th anniversary with a very special production of Dis-Dances premiering on our YouTube channel. This outdoor, nighttime, winter event features a cast of 6 in a magical environment.
A new myth of the quest of sister Goddesses Selene (moonlight) and Eos (dawn) to find each other. They search across the multiverses and encounter many others also seeking to find connections along the way.
Choreography: Jackie Latendresse
Dancers: Alex Hartshorn, Laura, Turnbull, Rachel Saufert, Taylor Zeller, Kyle Syverson, Mitchell Larsen.
Music: Cassandra Stinn
Costumes, props, set and lighting design: Jackie Latendresse
A special thank you to the Olfert's and to SKArts for their support of this production.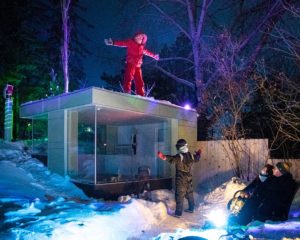 When
Dec 9, 2020
7:30 pm - 8:30 pm
Categories