It's almost time for International Dance Week viewing number 2! Connected/Apart was choreographed and performed by Taylor Zeller and Rachana Joshi, with outside eye Jackie Latendresse. Don't miss it this Thursday the 6th of January at 7pm CST (8pm EST)!
Thank you to our funders Canada Council for the Arts | Conseil des arts du Canada SaskCulture and SKArts! Thanks also to Free Flow Dance Centre, and Sightline Design.
Here's the link to the second piece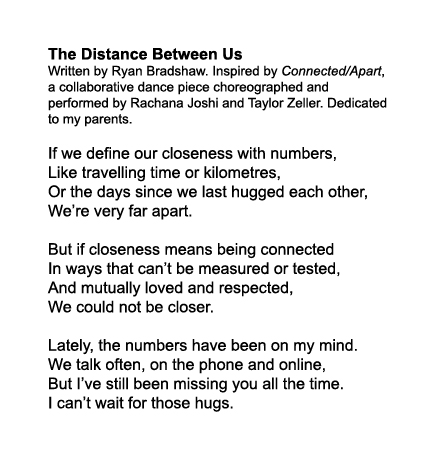 Rachana Joshi
South Asian – Brampton
Rachana Joshi is an emerging dance artist based in the GTA. After 14 years of training, she completed her Bharatanatyam arangetram under the tutelage of Guru Lata Pada, in 2017. Rachana is currently a company dancer and teacher with Sampradaya Dance Creations and Academy. She has performed company works including Parshwanath Upadhye's Nirvana (2019), Transcendence (2019), and Suma Nair's Kindred (2019). In 2019, she graduated from York University's B.F.A. program in Dance with honors and received training in Limon and Graham modern techniques through the program, as well as training in contemporary forms. During her time at York, she was awarded the Manorama Thakkar Award for Indian Dance as well as the Kondor Fine Arts Award.
Taylor Zeller
contemporary – Saskatoon
Taylor Zeller is an emerging dance artist and choreographer, who began her dance training in her hometown of Medicine Hat, Alberta. She is a graduate of the York University dance program specializing in choreography and performance. During her time at York she performed in several iterations of York dances, dance innovations and bloom. Zeller performed in an art installation for Nuit Blanche 2017 entitled The Forest, under the direction of Media Artist Will Kwan. Currently, Zeller is a company member with Free Flow Dance Theatre in Saskatoon, Saskatchewan.
If you enjoy Free Flow and want to support us please consider donating to our Ho Ho Holiday Campaign through Canada Helps. Everything helps!
https://www.canadahelps.org/en/charities/free-flow-dan
ce-theatre-inc/campaign/2-ho-ho-holiday-campaign-
2021/