Corona Dynasty Meets Goddess Nature is the fifth of the streams from International Dance Week with Free Flow Dance Theatre, originally live streamed on April 29th, 2021. Performed and created by Kari Alba and Sumeetha Geevergahse. Come and watch it with us as we celebrate International Dance Week 2021 and look forward to 2022!
Tango Morón, Ortega Campallo, Faraona Cazas Vicenti, El Perre, Poem by R.K. Saraswati,
Music
Namami Yoga, Vocal: Abhishek Raghuram, Kunnakol: Mahesh Vinayakaram, Mridangam: Pakhwaj & Chenda: Ganapathi Subramaniam, Table and Swar Mandal: Sai Shravanam, Chorus, Savitha, Anjana, Mayur & Rahul, Recorded Mixed and Mastered: Sai Shravanam at Resound India
Thank you to our funders Canada Council for the Arts | Conseil des arts du Canada, SaskCulture, and SKArts! Thanks also to Free Flow Dance Centre, and Sightline Design.
Here's the link to the fifth piece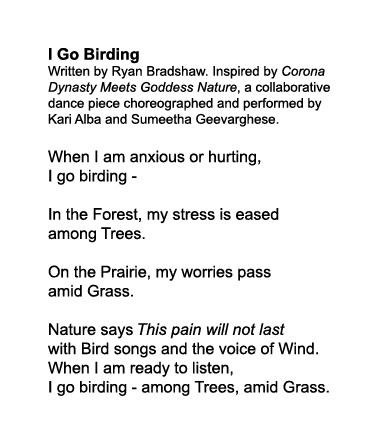 Kari Alba Flamenco – Saskatoon
Saskatoon native and professional 'Bailaora' (Flamenco Artist) Kari Alba has been living and breathing the art of Flamenco for many years. She has performed with many high profile artists such as world renowned flamenco guitarist Juan Martin in 2011. In 2019 her international professional group Duendecillo we're asked to perform at the Saskatoon Community Foundations Cultural Gala and at The Bassment Jazz Club. In 2018 she was nominated for a YWCA Women of Distinction award. In 2016 Alba and her group ¡Arte! Flamenco opened for legendary gypsy dancer Mercedes Amaya at the Playhouse Theatre at the Vancouver International Flamenco Festival. In 2013 she was invited to perform her production "Flamenkura" at the Vancouver International Flamenco Festival and in 2001 Alba was invited to be one of two principal dancers at the Vancouver International Flamenco Festival. Alba has spent a total of four years in Sevilla, mentoring with some of the best dancers as well as attending the Teachers' Specialization Course at La Fundación Cristina Heeren.
Sumeetha Geevergahse East Indian – Saskatoon
Sumeetha is a trained Indian Classical Dancer. She has studied dance for 18 years and came to Saskatoon in 2017. Since then, Sumeetha has performed on various platforms throughout Saskatoon. Her genre of dance is Bharatanatyam and Kuchipudi. In 2017 she started Nrtiyati Performing Arts Saskatoon where she teaches Indian Classical Dance to kids and adults. To her, dance is food for the soul and her objective is to spread Indian culture. Her team has performed at various events such as Saskatoon Folkfest, Prince Albert Tapestrama, Ness Creek and Rock You roots.
If you enjoy Free Flow and want to support us please consider donating to our Ho Ho Holiday Campaign through Canada Helps. Everything helps!
https://www.canadahelps.org/en/charities/free-flow-dance-theatre-inc/campaign/2-ho-ho-holiday-campaign-2021/?fbclid=IwAR2p4l1iMzwwgH1_SLh-IUlKcBh8YjdVXwnIUl_qugVlyfa7RusUZxPdbYM