We are looking forward to International Dance Week viewing number 4! Here + Now was choreographed by Pulga Muchochoma in collaboration with Laura Turnbull and performed by Laura Turnbull. Don't miss it this Thursday the 20th of January at 7pm CST (8pm EST)!
Thank you to our funders Canada Council for the Arts | Conseil des arts du Canada, SaskCulture, and SKArts! Thanks also to Free Flow Dance Centre, and Sightline Design.
Here's the link to the fourth piece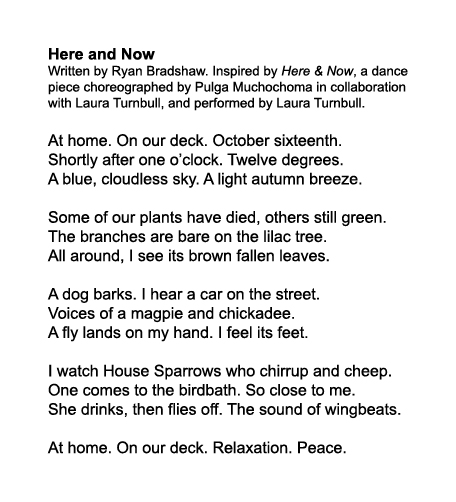 Laura Turnbull contemporary – Saskatoon
Laura began dancing at the age of 10 at Studio One. It instantly became her passion. She trained in a variety of styles and danced competitively until she was 18. After high school, she obtained her Bachelor of Science in Kinesiology at U of S, while continuing to dance with local groups. Since 2012, she has danced professionally in Singapore, Mexico, Costa Rica, Panama and India. Laura has worked with many world-renowned choreographers and danced alongside huge Bollywood stars such as Salman Khan, Ranveer Singh, Akshay Kumar and Jacqueline Fernandez to name a few. Laura currently has a second contract with Free Flow Dance Theatre Company.
Pulga Muchochoma African – Toronto
Pulga Muchochoma was born in Quelimane, Mozambique. His dance career and training began in Quelimane with Montes Namuli Dance Company. In August of 2006 he came to Toronto with the company for the international AIDS conference. With Montes Namuli/Shakespeare Link Canada, Formed in several shows in venues in Toronto and Mozambique. When Montes Namuli return to Mozambique, Muchochoma stayed in Toronto to study at The School of Toronto Dance Theatre. Where he had a chance to work with many choreographers like Coralee McLaren, D.D. Hoskins, Danny Grossman, Darryl Tracy, James Kudelka, Massimo Agostinelli, Peggy Baker, Peter Chin, Sasha Ivanochko, Sharon Moore and William Yong. He is happy and excited to currently be working with Toronto Dance Theatre under Artist Director Christopher House since 2009. He's also the creator and founder of African Dance and Fitness with Pulga.
Pulga is also involved in the building of a Cultural Centre in Quelimane, Mozambique. Here's some more information about the project:
They are hoping to raise $10.000 to build a new cultural center for artists in Quelimane (Mozambique). Currently there is only one cultural center in the city which was recently damaged due to fire. They are doing this fundraiser to help support a second place in the city of Quelimane where artists can come together to work and create.
A dance group of young boys and girls in Mozambique found in 2018 by José Angelo, have been working and creating outdoors and they are the reason and inspiration for this fundraiser. Although they have been happy to dance outdoors they want to build a space for them and many other artists to continue to create.
On behalf of artists in Mozambique they want to say thanks to Free Flow Dance Company and everyone who continue to support them.
~Pulga Muchochoma, Jose Zanlia & Salomao Almirante
https://www.gofundme.com/f/artistic-home-for-local-artists-in-mozambique
If you enjoy Free Flow and want to support us please consider donating to our Ho Ho Holiday Campaign through Canada Helps. Everything helps!
https://www.canadahelps.org/en/charities/free-flow-dance-theatre-inc/campaign/2-ho-ho-holiday-campaign-2021/?fbclid=IwAR2p4l1iMzwwgH1_SLh-IUlKcBh8YjdVXwnIUl_qugVlyfa7RusUZxPdbYM