We are awaiting International Dance Week viewing number 3! Leopard Feet, Fall Shadow was created and performed by Juan Villegas and Lucy Rupert. Don't miss it this Thursday the 13th of January at 7pm CST (8pm EST)!
Thank you to our funders Canada Council for the Arts | Conseil des arts du Canada, SaskCulture, and SKArts! Thanks also to Free Flow Dance Centre, and Sightline Design.
Here's the link to the third piece: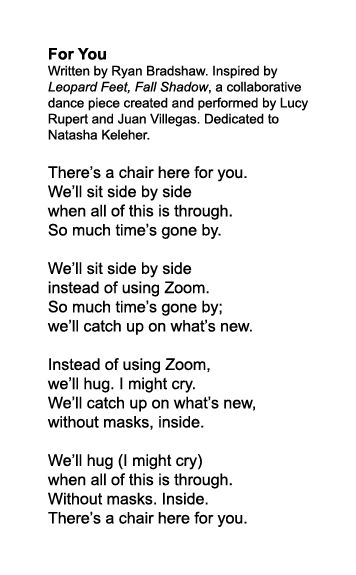 Juan Villegas Colombian – Victoria
Juan Villegas is a Colombian-Canadian artist who works in dance, visual art, and video. Juan has degrees in Contemporary Dance from Simon Fraser University and in Industrial Design from Emily Carr University. He has performed and choreographed in Ontario and British Columbia. Recently, in collaboration with poet Barbara Adler, choreographed and performed for Pop Up Dances at the Vancouver Public Library. He currently performs with Kinesis Dance Somatheatro, and in the past he has worked with Desirée Dunbar, Henry Daniel, and Hennifer McLeish Lewis. While in Toronto he performed in works by Marie-Josée Chartier, Darryl Tracy and Jillian Peever. Alongside dancing and choreographing, he is currently completing Body-Mind Centering's Somatic Movement Education program in Eugene, Oregon. Juan Is also a movement teacher both in the city and abroad. During the pandemic, Juan is living and travelling on a boat along the coast of British Columbia, with his partner, dancing in the limited space with creativity.
Lucy Rupert contemporary – Toronto
Lucy Rupert is a freelance dancer, choreographer and teacher and artistic director of Blue Ceiling dance (founded in 2004). With Blue Ceiling dance, Lucy has created, produced, and commissioned over two-dozen contemporary dance and multi-disciplinary performance works and traveled with repertoire to Germany, Montreal, New York, Ontario and Saskatchewan. Her choreography is noted for its quicksilver movement quality, the diversity of her intergenerational casts, and the passion and intelligence the dancers bring to their performances. As a freelancer, Lucy has performed with Fujiwara Dance Inventions (2010-present), Theatre Rusticle (2001-2017), Free Flow Dance Company (1995-1999), Chartier Danse, Anandam Dance Theatre, Theatre Passe-Muraille, Circus Orange and Sashar Zarif Dance, among others. Lucy has a joint Honours B.A. in Dance and Music from the University of Waterloo – the singular degree of this kind ever granted.
If you enjoy Free Flow and want to support us please consider donating to our Ho Ho Holiday Campaign through Canada Helps. Everything helps!
https://www.canadahelps.org/en/charities/free-flow-dance-theatre-inc/campaign/2-ho-ho-holiday-campaign-2021/