Fast Flowing Rivers is the sixth of the streams from International Dance Week with Free Flow Dance Theatre, originally live streamed on April 30th 2021. Choreographed by dancer Kyle Syverson with spoken word by ecoaborijanelle, and sound advice by Miki Mappin. Come and watch it with us as we celebrate International Dance Week 2021 and look forward to 2022!
Thank you to our funders Canada Council for the Arts | Conseil des arts du Canada, SaskCulture, and SKArts! Thanks also to Free Flow Dance Centre, and Sightline Design.
Here's the link to the sixth piece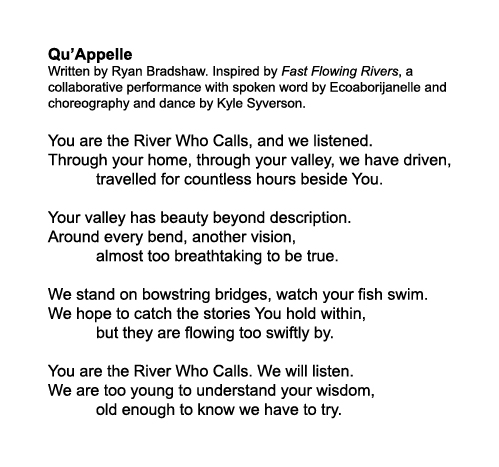 Ecoaborijanelle Indigenous – Pine Lake
Janelle "ecoaborijanelle" Pewapsconias (she/her) is a nehiyaw Spoken Word Poet, Community Engaged Researcher, Social Innovator, and Public Speaker based in the Treaty Lands now known as Little Pine First Nation, Treaty 6 Territory on Saskatchewan. As a single mother, Janelle has studied and graduated from the University of Saskatchewan in Indigenous Peoples Lands Management and Renewable Resource Management, as well as, from the Saskatchewan Indian Institute of Technologies in Business Administration. As an emerging professional artist, ecoaborijanelle has competed in three national poetry slam competitions, has self-published her first chapbook, "kikawiynaw askiy: Mother Earth", is completing her second chapbook, and had several of her poems in Canadian and American publications.
Kyle Syverson contemporary– Saskatoon
Kyle Syveron is student, teacher, performer, choreographer, and fanatic of dance. She is based in Saskatoon, Saskatchewan. Intensive ballet and gymnastics training led her to the monkey bars, the trees, and thankfully, into the amazing realms of Contact Improvisation (CI), and Contemporary dance. Some influential teachers include: Nancy Stark-Smith, Ray Chung, Anjelika Doniy, Rob Kitso, and Hofesh Schechter. Seattle Festival of Dance Improvisation, CI festivals in Spain and Italy, Leviathan Studios (Lasqueti Island, BC) and Free Flow Dance Company have been essential in her training. Kyle has enjoyed collaborating and performing with Free Flow Dance Theatre since 2008. Kyle creates and performs CI-based, site-specific dance with KSAMB Dance Company as well.
If you enjoy Free Flow and want to support us please consider donating to our Canada Helps campaign. Everything helps!
https://www.canadahelps.org/en/charities/free-flow-dance-theatre-inc/